How Content Marketing Can Separate You From Your Competitors
If there's one thing that can set you apart from your competition online, it's a good content strategy.

Nowadays, online marketing (digital marketing) is a huge part of business growth for most industries; this is because everyone is now online. Within the past few years, one of the most important strategies in digital marketing has become content marketing. Over time, content has become the "king" of strategies for improving website visibility online.

Search engines like Google take content into consideration when presenting the best results to users online (aka SEO optimized content). Publishing good, quality content will increase the web traffic to the domain that has published the content. In turn, this increase in web traffic could come with potential clients, which means that the traffic is now of higher value for the domain (your law firm). How this increase in traffic and clients occurs is by creating the right type of content.

Law firms who create and publish high-quality content online can leverage search engines to generate brand awareness. This is how some of the most well-known law firms are discovered online.

Keep reading if you'd like to know how to grow your law firm's website traffic and discover why every law firm online needs a good content marketing strategy.

1. What is a Content Marketing Manager?
I'll start off with who's typically in charge of a content marketing strategy. As a Content Marketing Manager at a
personal injury law firm
, I oversee all content that is created for and by my law firm's team. This means that I get my hands dirty and go digging through every article to ensure it fits our law firm's morals, ethics, values, and law practices.
On top of this, I have to make sure that the information published to my law firm's blog is 100% accurate. Be aware that the saying still applies online, "anything you say can and will be used against you." I'm certain you know that there are always competitors who would love to use your words against you, so always get your law firm team members to approve the information before you publish the content.
When Content Marketing Managers are creating topics, there is a lot of research that goes into choosing the best topics for the law firm they work for. If the goal is to rank your content on search engines to drive organic traffic, then the research process usually looks like this:
1) Choose keywords to research on Google that are related to your firm's practices.
2) Find the top articles on the SERPs (search engine results pages) using those keywords.
3) Create a list of topics you haven't written about based on your search results.
4) Strategize how you can make that content better or different than your competitors' content.
There can be other steps involved, but you get the basic understanding and this process can take a lot of time even when done correctly. However, the results can be impressive.
2. Why Content is More Than Just Information
I'm going to point out something that I really want you to remember: Content should never be created with the intention of just picking a random topic that has some relevance to a firm's practices and expertise!

Content needs to be directly associated with what your law firm has expertise in. It must answer a reader's relevant questions, prepare for future questions, and give free advice without being one-sided. What do I mean by one-sided? A good rule of thumb is to keep your articles open to various audience members. Try to stay clear of making direct statements such as, "you're not to blame for getting injured while working at McDonald's because of the greasy floors." This gives off the wrong impression because, for all you know, the worker could be to blame for their injury. I know it's obvious, but I really want you to keep this in mind.

Law firms are like any other industry in that they need content that is prepared to be of high quality for both Google and users. These users could be anyone, not just someone who is seeking information for placing legal accountability, but also the one who is trying to protect themselves from legal obligations. What you write can have consequences and you want to make sure you cover topics from all angles to protect your firm's integrity.

Your content is supposed to answer questions that aid users who are searching on Google, Bing, etc. Essentially, you are offering free advice to users who are searching for topics that your firm, and its team members are experts in. Make it worth their while and you might find yourself getting a call from a party interested in your firm's services.

3. How to Stand Apart From the Competition
I could talk all day and night about why quality content is so important for law firms, but I'm only going to focus on how content marketing can help your firm stand out amongst the crowd of competitors.

We've already covered the basic strategy of searching for content to write about, now it's time to take action.

Perform Competitive Research
As stated previously, a great way to get started on a content marketing strategy is through competitive research. This can be done by finding the top articles in the SERPs for the keywords you want to be associated with your law firm. To dive further into this, you can take notes of what the user intent is when searching for each keyword. In general, there are three user intents when searching online:
1) Navigational: The user is searching for a site or location.
2) Informational: The user is searching for information.
3) Transactional: The user is wanting to make a purchase.
Remember these user intents when performing your research as you'll want to create your content based on the most popular intent for that SERP search. Google would be the first place I'd start since it's by far the most used search engine. Also, since Google's algorithms are user intent focused, this will give you an advantage for knowing what users are really looking for when they perform a search. Google only wants what's best for their users.
If you're a law firm that practices divorce law, then maybe you'd want to write an article about how to file for a divorce. Let's run through an example using the keyword "how to file for divorce". After using an SEO tool (I chose Ahrefs), I found that this is a popular keyword searched on Google. Now that I have my relevant keyword and I know that it's searched for regularly, I'm going to search for it myself on Google to see what results appear.
For this, I like to use an incognito tab so I don't get skewed information like law offices near me that offer their divorce expertise.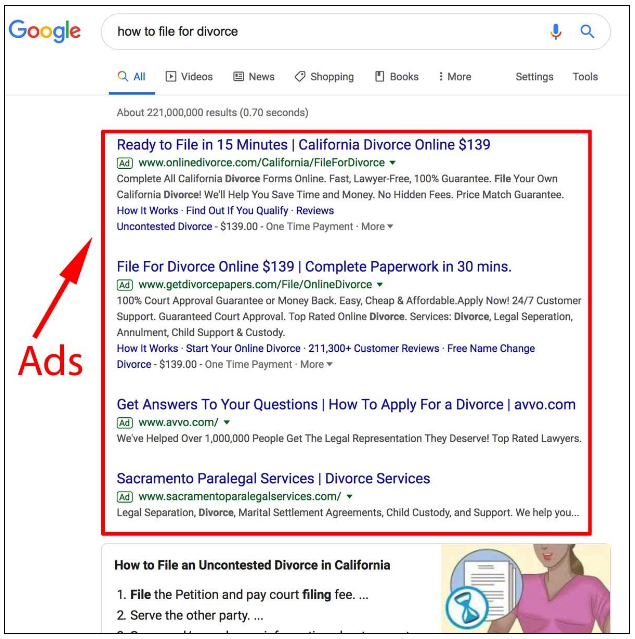 You can see from the screenshot that my first results on the first SERP page are advertisements. I don't count these since I'm trying to find what people are looking for, not what Google is paid to present to me.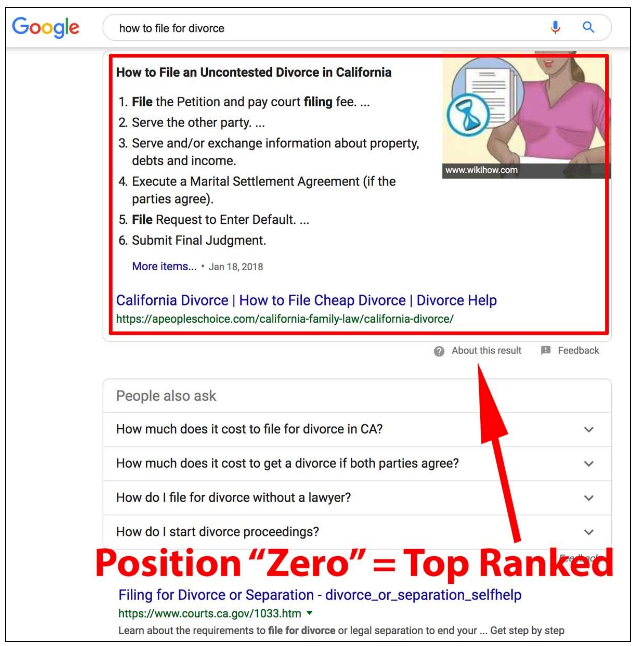 From this second screenshot, we can see that the top ranked article, located in position "zero", for this keyword (out of over 200 million results) is from
A People's Choice
, a website that provides self-help legal document assistance in California (I'm in California so it makes sense for me to have information related to my state). The page is called "How to File Cheap Divorce" on the SERP, however, when the page link is clicked, it's actually an overview for filing for divorce in the state of California.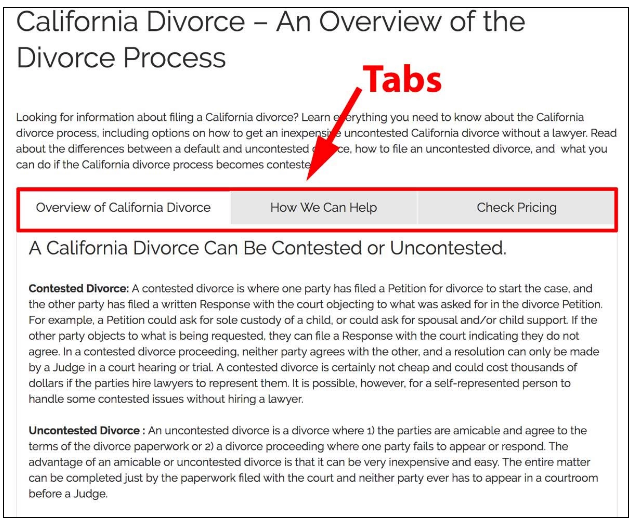 The page is split into three tabs. The first tab includes information on contested vs uncontested divorce, how to file for an uncontested divorce, and how to obtain a judgment. The second tab is for how A People's Choice can help with the divorce. And the third tab provides estimated information on proceeding costs.
This first article is currently your main competitor for your own article and they include a lot of information in a way that's easy to find and answers the user's current question for how to file for a divorce and even the prices associated with divorce proceedings. Now, you'll note these details since this is what users online are looking for and repeat this process with each page.
Your goal for taking all of these notes is to create either a better article or an article that provides a different perspective related to the topic so your content is benefiting the user more than your competitor's. Again, you still need to repeat this process for all of the other competitors on the first SERP page - going to the second page doesn't tend to provide you with better results.
Once you've collected this data, you can create a spreadsheet and add your newfound information for a comparison of all the elements that Google and users are looking for when it comes to articles surrounding this topic. Things you can ask yourself include, how many articles provide information on contested vs uncontested divorce? Do any of the articles include images? How many articles provide a step-by-step process? Is there a way I can provide a new perspective on this subject?
If the majority of the articles have a step-by-step guide for filing for divorce in the state of California, then you should too because users are wanting steps for how to file for divorce in their state. However, don't just look at your competitor's articles and copy what they do, you still need to be original otherwise, you're not going to stand out. So, think about what you can do to make your content better or different. It could be by providing an in-depth look at the process of filing for both contested and uncontested divorce or maybe you could provide some guidance for how long the process takes in someone's state. If you really want to go all out, you could create a piece of content that includes resources on how to file for divorce in each state.
Local Competitive Research
Once you've searched topics online related to your law firm's practices, you can also do some digging into local competitors to see what they've previously written about. If they have articles that drive a lot of traffic, perhaps you have a new/different perspective on the topic or you can provide more advice than your competitor.

Note: Tools you can use to find the number of search traffic that is going to a particular page include Ahrefs, Moz, SEMrush, SE Ranking, and many others.

There are many times where not all questions are answered or articles aren't in-depth enough for readers to find exactly what they're looking for. This is your chance to shine and give readers a better experience. Perform even more research to see what wasn't covered in your competitor's article(s) and add it to yours. Try to think ahead of your competitors by answering questions that could be asked by readers down the road. Sometimes, readers will ask questions in the comments section. Look at their needs and answer them as best you can in your articles.

Optimize Your Articles for People
Another thing to keep in mind is that your articles are going to be read by people. You're expecting that at least some of these people will hopefully become your clients, so already start acting like they will by choosing your words carefully in your content. Odds are your clients don't speak the same legal jargon you do, so just naturally assume that terms such as mediation or malfeasance aren't currently within their vocabulary. If you need to include these terms, then you can give a short description or just link out to another page that covers the definition in more detail.
Some law firms don't think about this and expect too much of their audience members. This could result in readers leaving your page and traveling to your competitor's because it's easier to read. Keep things simple.

Create Foundational Content
Create some foundational content. This is content that you can build on. Subjects that are too long or you feel shouldn't be covered in a single article need to be created with the intent of curating more content. Creating separate content to add context for the reader is incredibly useful. Once you've published your 3,000-word article on how to choose a good divorce lawyer in New Jersey, you should already have more article topics ready to go that can be linked to in your main piece but are unique by themselves.

Promote Your Content
Always be looking for more content ideas and never stop updating and promoting your best pieces. Promotion doesn't mean becoming a door-to-door salesman requesting other websites link to your article for money (I don't recommend this). Promotion can be anything from updating your law firm's social media feed with the publication of the article or contacting your fellow colleagues to link out to your article on their social media pages or articles.

Once you create a piece of content that answers your potential client's questions accurately and with the best intentions (providing beneficial content for the purpose of knowledge), then you'll see your articles performing better than your competitor's. This is what sets you apart from the competition.

Be proud of your work and put yourself above your competition with your knowledge, skills, and these tips I've provided you.

Now, go get to making your content strategy! And don't forget, content is king online.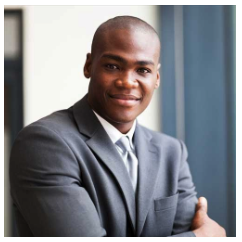 Author's Bio
:
Steve Howards has been writing legal-centric articles for several years now. He started working with the
personal injury attorney
law firm Herrig & Vogt in 2019 as the Content Marketing Manager, which has allowed him to expand on his writing in personal injury, family law, and much more. Steve strives to offer the public advice on various laws covering a variety of practices.
Get More Clients With Legal Services Link
Create your FREE profile and get listed in our attorney directory to start receiving email notifications of relevant legal projects.
Posted

- 04/21/2021
Connect with us:
Learn about us: