Helpful Articles
6 Ways Divorce Lawyers Can Help Their Clients
One word that will probably never be associated with contested divorce cases is 'easy.' After all, divorce is a complex process and what makes it even more convoluted is the fact that these laws vary from state to state.
Hiring a local attorney who is conversant with the state-based divorce laws is helpful. This is why a client from Geneva, Illinois will always consider Geneva divorce attorneys for himself/herself.
While splitting spouses may be on an emotional rollercoaster, they need an anchor who can guide them through the complicated maze of divorce-related legalities. This is where your qualifications and skills come into the picture!
An experienced divorce lawyer fits this bill as he/she can help clients navigate the labyrinth so they stay sane.
Mentioned ahead are a few ways in which a divorce lawyer can help their clients.
1) Clarifying the Grounds for Divorce
Certain grounds for divorce are put in place by every state. Spouses can approach the court for terminating their marriage based on these grounds. Some grounds relate to fault on the part of one of the spouses. These faults include abuse, infidelity, cruel treatment, and incarceration.
Every state can grant a divorce on no-fault grounds. Some states, however, require that the spouses stay separately for a stipulated period of time before the court can terminate their marriage.
With a lawyer by their side, clients can hope to receive certain benefits if their marriage is dissolved based on one spouse's fault and may be entitled to receiving spousal support.
Further, some marriages may be legally invalid as legal requirements may have been ignored (knowingly or unknowingly), the documentation may be incomplete, or a ceremony may have been skipped. In such cases, a lawyer can help clients decide whether they should go for a divorce or an annulment will be preferable.
2) Giving Unbiased Advice
During a divorce, a lot of emotions come into play. However, a divorce lawyer can prevent clients from becoming emotionally weak by discussing factors that will affect their future and take their mind off of the end of the marriage.
In addition, a divorce lawyer can become the middleman between the soon-to-be-ex spouses, thereby helping them avoid face-to-face communication to make things easier for them.
3) Division of Property and Marital Assets
An experienced divorce lawyer can explain exactly how property is divided after the marriage has ended. Each spouse may have brought the property into the marriage. Other couples may have accumulated possessions in accordance with their prenuptial or post-nuptial agreements. An experienced lawyer can help divide the property accordingly.
When it comes to marital assets, a lawyer sees to it that both parties disclose all their assets honestly. Sometimes, one spouse may have handled the money, leaving the other completely in the dark about their assets and debts. A divorce attorney will track down all assets so that the settlement is fair, taking into account whether the state is a community property state or equitable distribution state.
4) Planning for Debt Repayment
This can be really tricky. Sometimes, both partners are legally responsible for a joint debt. However, in most cases, the debt is held by one of the spouses, and that spouse will be held financially responsible for it. A lawyer can help determine how he/she can protect himself/herself from debt that should also be paid for by the other spouse.
5) Help with Spousal Support, Custody, and Divorce Settlement
As mentioned, a divorce lawyer can help gauge whether or not a spouse is entitled to receiving/paying spousal support. This aspect comes into play when both spouses have very different incomes or when one spouse has sacrificed his/her career to help the other spouse get ahead.
A spouse may also be entitled to a portion of the other spouse's pension or Social Security income if they have been married for ten years or more.
Apart from litigating, a divorce lawyer can also help clients with formulating a custody plan that keeps the best interests of the parents and the child as the focal point.
He/she can be helpful at the time of submitting the appropriate paperwork in court. Whether it is preparing these papers or replying to the divorce petition made by the other spouse, a divorce lawyer can help clients deal with either scenario.
Further, a divorce lawyer can assist clients in negotiating a divorce settlement w.r.t. the marital estate. This can be settled out-of-court or in the court, but the former proves to be cheaper than the latter.
6) Protecting Your Business
A spouse may be legally entitled to a part of the business venture set up, owned and managed by the other spouse. In connection with this, the business owner can become increasingly focused on the divorce and less attentive towards building the business's financial standing. Divorce lawyers can help such clients by handling their case so they can concentrate on growing their business single-mindedly.
In other cases, one spouse may attempt to divert assets away from the business, hide certain assets, decrease the business value, or try to deceive the spouse in other ways. Lawyers can use legal instruments like injunctions and restraining orders (among others) to help such a situation. They can also help protect a business's name and reputation from being tarnished during the divorce.
At the same time, divorce lawyers can help ensure that the business is properly audited, identify the spouse's share in the business and see to it that the property settlement includes their client's interest in the fairest manner.
Conclusion
While having a great local divorce lawyer may prove to be immensely helpful to clients, lawyers should bear in mind that they are not therapists or punching bags. Clients can leverage an attorney's expertise in finalizing the divorce and protecting their interests. A good lawyer always provides sound advice and works towards getting the best possible outcome for clients.
About the Author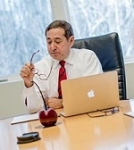 Posted

- 01/07/2019 | Illinois