Helpful Articles
Solo Practitioner Bankruptcy Attorney vs. Large Firm or Bankruptcy Mill
So, you're considering getting help filing a Bankruptcy petition, but you don't know where to turn. You've probably seen the large billboard ads that are lined along the highway promising $0 down to file. You may have also seen the craigslist postings or radio advertisements guaranteeing a total fee of $499 or less. If it sounds too good to be true, I'm sorry to break it to you, but it probably is too good to be true.
Believe me, I get it. You're already struggling financially. You wouldn't be considering declaring Bankruptcy otherwise. The Bankruptcy Code does not require you to hire an attorney to prepare or represent you during your Bankruptcy proceedings, but I would highly urge you to consider all your options before making any rash decisions. Bankruptcy is a serious matter, and is not to be taken lightly. Cutting costs at the start will end up costing you more in the long run.
Don't get me wrong, I have nothing against price shopping. In fact, I encourage it. But I also caution potential bankruptcy filers to beware of scams. There are a lot of attorneys, and even non-attorneys, who advertise very low fees, but are not upfront with you about the services you are getting or the additional costs you will be incurring. For example, many Bankruptcy mills or attorneys will advertise for a $499 fee, but don't tell you that you are responsible for paying the filing fees yourself, the credit counseling courses yourself, and the credit report yourself. Not to mention, you will also be charged for any appearances in court or at your creditors' meeting. This ends up costing well over $1500.00 for the "$499" fee that is advertised.
Now that you're aware of the potential fee pitfalls, you may be wondering what other disadvantages there are to hiring Bankruptcy Mills or Attorneys who advertise very low fees, and how to avoid them. Generally, these law practices take on a large number of Bankruptcy cases while providing low quality or substandard legal services. They focus on aggressive advertising and marketing, and rely heavily on support staff to conduct the intake and prepare a one-size-fits all Bankruptcy petition. Often times, you don't meet a licensed attorney until your creditors' meeting. Many law practices will require an additional fee for representation at your meeting of creditors. Large law firms or debt relief agencies typically run like call centers. There is very little personalized attention and focus on the debtor's individual circumstances and goals.
Don't pay attorney fees for nothing more than a glorified document preparation service. When you hire a solo-practitioner, you're more likely to save time and money in the long run. You want your petition to be prepared correctly by an attorney who will take into account your personal situation. A solo-practitioner, unlike a Bankruptcy Mill or a Large firm, will not rely primarily on their support staff, and will be there with you from start to end.
At Needle & Thread Law, we aim to keep attorney costs low without sacrificing service. Contact us today for a free consultation. We will be sure to listen to all your concerns and answer any questions you have.
About the Author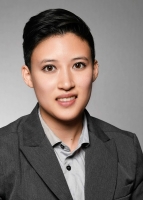 Posted

- 02/05/2019 | Illinois