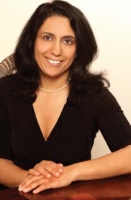 Rinky Parwani
Managing Attorney
Parwani Law, P.A.
Contact Information
813-514-8280, rinky@parwanilaw.com
Website
---
Biography
Rinky S. Parwani began her career practicing law in Beverly Hills, California handling high profile complex litigation and entertainment law matters. Later, her practice turned transactional to Lake Tahoe, California with a focus on business startups, trademarks, real estate resort development and government law. After leaving California, she also served as in-house counsel for a major lending corporation headquartered in Des Moines, Iowa as well as a Senior Vice President of Compliance for a fortune 500 mortgage operation in Dallas, Texas prior to opening Parwani Law, P.A. in Tampa, Florida She has represented various sophisticated individual, government and corporate clients and counseled in a variety of litigation and corporate matters throughout her career. Ms. Parwani also has prior experience with state and federal consumer lending laws for unsecured credit cards, revolving credit, secured loans, retail credit, sales finance and mortgage loans. She also has served as a special magistrate and legal counsel for numerous Florida County Value Adjustment Boards. Her practice varies significantly from unique federal and state litigation cases to transactional matters.
Born and raised in Des Moines, Iowa, Ms. Parwani worked in private accounting for several years prior to law school. Her background includes a Certified Public Accountant (CPA) certificate from Iowa (currently the license is inactive) and a Certified Management Accountant (CMA) designation (currently the designation is inactive)?.
Ms. Parwani or the firm is currently a member of the following organizations: Hillsborough County Bar Association, American Bar Association, Tampa Bay Bankruptcy Bar Association, National Association of Consumer Bankruptcy Attorneys, and the American Immigration Lawyers Association. She is a Fellow of the American Bar Association.
Ms. Parwani is a frequent volunteer for Fox Channel 13 Tampa Bay Ask-A-Lawyer. She has published an article entitled "Advising Your Client in Foreclosure" in the Stetson Law Review, Volume 41, No. 3, Spring 2012 Foreclosure Symposium Edition. She is a frequent continuing legal education speaker and has also taught bankruptcy seminars for the American Bar Association and Amstar Litigation. She was commissioned by the Governor of Kentucky as a Kentucky Colonel. In addition, she teaches Immigration Law, Bankruptcy Law and Legal Research and Writing as an adjunct faculty instructor at the Hillsborough Community College Ybor campus in the paralegal studies program.
Court Admissions
Ms. Parwani is licensed to practice law in four states:
Florida #629634
California #199487
Texas #24049868
Iowa #18659
In addition, Ms. Parwani has been admitted to the following courts:
U.S. Supreme Court
U.S. Tax Court #PR-0625 CAF-0305-86807R
11th US Circuit Court of Appeals
9th US Circuit Court of Appeals
US District Court Middle District of Florida
US District Court Northern District of Florida
US District Court Southern District of Florida
US District Court Central District of California.
US District Court Southern District of California

Education
Ms. Parwani received her education at the following schools:
Juris Doctor 1998
University of Minnesota Law School - Minneapolis, Minnesota
Master of Business 1993
Drake University - Des Moines, Iowa
Bachelor of Science in Business Administration 1992
Drake University - Des Moines, Iowa
Double Major: Accounting and Corporate Finance
---
Areas of Law and Practice
| Areas of Law | Areas of Practice |
| --- | --- |
| Administrative Law | Administrative Adjudications, Administrative Agency Practice, Administrative Hearings and Appeals, Administrative Litigation, Federal Administrative Law, Judicial Review, Professional Licensing, Professional Licensing Regulation, Public Law |
| Agency and Distributorships | Dealer and Distributor Termination, Distribution, Distribution Agreements, International Distribution |
| Alcoholic Beverage Law | Alcoholic Beverage Control, Dram Shop Liability, Liquor Liability, Liquor Licensing, Local Liquor Options |
| Appellate Practice | Civil Appeals, Criminal Appeals |
| Banking Law | ATM Networks, Bank Collections, Bank Directors and Officers Liability, Bank Failures, Bank Foreclosures, Bank Fraud, Bank Holding Company Law, Bank Holding Company Regulation, Bank Insolvency, Bank Mergers and Acquisitions, Banking Antitrust, Banking Litigation, Banking Regulation, Check Fraud, Commercial Banking, Commercial Credit, Commercial Loans, Consumer Banking, Consumer Loans, Credit Card Law, Credit Finance, Credit Fraud, Credit Insurance, Credit Law, Credit Union Law, Currency Law, Electronic Banking, Escrow Agent Liability, Escrow Law, Exchange Control, Fair Lending, Financial Law, Foreign Exchange, Interest and Usury, International Banking Law, International Loans, Lender Law, Lender Liability, Lender Regulation, Lenders Rights, Letters of Credit, Loan Restructuring, Loan Syndication, Loan Workouts, Loans, Merchant Banking, Offshore Banking, Savings and Loan Failures, Savings and Loan Fraud, Savings and Loan Law, Savings and Loan Liquidation, Savings and Loan Regulation, Secured Lending, Thrift Institution Failures, Thrift Institution Regulation, Thrift Institutions Law, Trade and Professional Associations, Trade Association Law, Truth in Lending |
| Bankruptcy | Bankruptcy Arbitration, Bankruptcy Chapter 7, Bankruptcy Chapter 11, Bankruptcy Chapter 12, Bankruptcy Chapter 13, Bankruptcy Collections, Bankruptcy Fraud, Bankruptcy Litigation, Bankruptcy Mediation, Bankruptcy Reorganization, Bankruptcy Taxation, Bankruptcy Trustees Rights, Commercial Bankruptcy, Commercial Foreclosure, Commercial Insolvency, Commercial Recovery, Commercial Workouts, Consumer Bankruptcy, Creditor Bankruptcy, Debt Relief, Debtor Bankruptcy, Foreclosures, Fraudulent Conveyance, Insolvency, International Bankruptcy, International Insolvency, Liquidations, Out of Court Debt Restructuring, Personal Bankruptcy, Pre-Bankruptcy Workouts, Receivership, Repossessions, Workouts, Workouts Taxation |
| Business Law | Business Arbitration, Business Associations Law, Business Cooperatives, Business Crimes, Business Development, Business Dissolutions, Business Enterprises, Business Estate Planning, Business Formation, Business Fraud, Business Litigation, Business Mediation, Business Organization, Business Planning, Business Regulation, Business Reorganization, Business Start-Ups, Business Succession Planning, Business Successions, Business Syndication, Business Taxation, Business Torts, Business Transactions, Business Transfers, Business Trusts, Business Valuation, Buy-Sell Agreements, Buying and Selling of Businesses, Closely Held Business Estate Planning, Closely Held Business Law, Closely Held Business Taxation, Complex Business Litigation, Cooperative Taxation, Emerging Business Law, Emerging Growth Companies, Entrepreneurial Business Law, Family Business Law, Family Business Mediation, Family Business Successions, International Business Law, International Joint Ventures, Joint Ventures, Limited Liability Company Law, Minority Business Law, Pass-Through Entities, Private Business Law, Privatization, Professional Practices, Small Business Law, Sole Proprietorships, Strategic Alliances, Trade and Professional Associations, Trade Association Law |
| Casinos and Gambling | Casino Law, Gaming Law, Gaming Licensing, Internet Gaming Law, Lottery Law, Pari-Mutuel Racing, Riverboat Gaming Law, Sweepstakes |
| Commercial Law | Commercial Arbitration, Commercial Bad Faith, Commercial Constitutional Law, Commercial Crimes, Commercial Fraud, Commercial Liability, Commercial Litigation, Commercial Mediation, Commercial Torts, Commercial Transactions, Commercial Transfers, Commercial Trusts, Complex Commercial Litigation, International Commercial Arbitration, International Commercial Law, International Sale of Goods, Negotiable Instruments, Retail Liability, Sale of Goods, Secured Transactions, Uniform Commercial Code, Warehousing |
| Commercial Real Estate | Commercial Conveyancing, Commercial Real Estate Acquisitions, Commercial Real Estate Bankruptcy, Commercial Real Estate Contracts, Commercial Real Estate Development, Commercial Real Estate Finance, Commercial Real Estate Foreclosure, Commercial Real Estate Litigation, Commercial Real Estate Sales, Commercial Real Estate Syndication, Commercial Real Estate Workouts, Industrial Real Estate Law, Retail Development, Shopping Center Acquisitions, Shopping Center Development, Shopping Center Law |
| Computers and Software | Computer Contracts, Computer Crime, Computer Fraud, Computer Law, Computer Security, Computer Software Law, Computer Technology, Data Protection, Information Technology, Information Technology Contracts, Information Technology Licensing, International Computer Law, Software Copyright, Software Licensing, Software Protection, Software Publishing Technology |
| Consumer Law | Consumer Arbitration, Consumer Class Actions, Consumer Collections, Consumer Credit, Consumer Credit Compliance, Consumer Finance, Consumer Fraud, Consumer Litigation, Consumer Protection, Consumer Rights, Fair Credit Reporting Act |
| Contracts | Contract Drafting, Commercial Contracts, Contract Fraud, Contract Litigation, International Commercial Contracts, International Contracts |
| Copyrights | Copyright Infringement, Copyright Licensing, Copyright Litigation, Copyright Prosecution, Copyright Protection, Copyright Registration, International Copyright Law, Internet Copyright Law |
| Corporate Law | Closely Held Corporations, Corporate Banking Law, Corporate Commercial Law, Corporate Contracts, Corporate Control Contests, Corporate Criminal Law, Corporate Dissolutions, Corporate Ethics, Corporate Fiduciary Law, Corporate Finance, Corporate Formation, Corporate Governance, Corporate Income Tax, Corporate Insurance, Corporate Insurance Defense, Corporate Investigations, Corporate Litigation, Corporate Organization, Corporate Partnerships, Corporate Planning, Corporate Real Estate, Corporate Reorganization, Corporate Successions, Corporate Tax Controversies, Corporate Tax Planning, Corporate Taxation, Corporate Trusts, Corporate Workouts, Family Corporations, Foreign Sales Corporations, Hostile Takeovers, Incorporation, International Corporate Finance, International Corporate Law, International Corporate Taxation, Nonprofit Corporations, Offshore Corporations, Professional Corporations, Proxy Contests, Public Corporations, S Corporations, Small Business Corporations, Takeovers, Tender Offers, Transfer Pricing |
| Debtor and Creditor | Creditors Rights, Creditors Rights in Bankruptcy, Debtor and Creditor Collections, Debtor and Creditor Remedies, Debtor and Creditor Reorganization, Debtor and Creditor Rights, Debtor and Creditor Workouts, Debtors Rights, Fair Debt Collection Practices Act, International Creditors Rights, Secured Creditors Rights, Unsecured Creditors Rights |
| Elder Law | Age Discrimination, Elder Abuse, Elder Care, Elder Rights |
| Entertainment Law | Art Law, Artists Rights, Cultural Property, Entertainment Contracts, Entertainment Finance, Entertainment Liability, Entertainment Litigation, Entertainment Syndication, Fine Arts, Interactive Multimedia Law, Motion Picture Finance, Motion Picture Production and, Distribution, Motion Pictures and Television, Multimedia Law, Museum Law, Music Copyright, Music Law, Music Licensing, Music Publishing, Theater Law, Video Law |
| Family Law | Adoptions, Agency Adoptions, Alimony, Annulment, Assisted Reproductive Technology, Child Abduction, Child Abuse and Neglect, Child Advocacy, Child Care, Child Custody, Child Custody Mediation, Child Dependency, Child Protection, Child Sexual Abuse, Child Support, Child Welfare, Childrens Rights, Civil Unions, Cohabitation Agreements, Collaborative Family Law, Community Property Law, Day Care, Divorce, Divorce Arbitration, Divorce Mediation, Divorce Taxation, Domestic Partnerships, Domestic Relations, Domestic Torts, Domestic Violence, Equitable Distribution, Family Arbitration, Family Mediation, Fathers Rights, Foster Care, Gay and Lesbian Family Law, Grandparents Custody, Grandparents Visitation Rights, Independent Adoptions, International Adoptions, International Child Abduction, International Child Custody, International Family Law, Interstate Adoptions, Interstate Child Custody, Interstate Support, Juvenile Criminal Law, Juvenile Dependency, Juvenile Delinquency, Juvenile Law, Legal Separation, Marital Agreements, Marital Property Distribution, Marital Property Law, Marital Property Settlements, Matrimonial Bankruptcy Law, Matrimonial Law, Military Divorce, Name Changes, No Fault Divorce, Non-Traditional Family Law, Orphans Court Practice, Palimony, Parental Kidnapping, Parental Rights, Parenting Time, Paternity, Post Divorce Modification, Postnuptial Agreements, Premarital Agreements, Private Adoptions, Qualified Domestic Relations Orders, (QDROs), Restraining Orders, Same Sex Marriage, Spousal Support, Step Parent Adoptons, Surrogacy Law, Termination of Parental Rights, Third Party Custody, Uncontested Divorce, Visitation Rights |
| Government | Congressional Investigations, County Government Law, County Liability, False Claims Act, Federal Government Law, Federal Grants, Federal Legislative Practice, Federal Tort Claims, Government Affairs, Government Agency Practice, Government Ethics, Government Immunity, Government Investigations, Government Relations, Government Risk Management, Government Tort Liability, Governmental Defense, Governmental Law, Governmental Liability, Initiative and Referendum, International Government Relations, Legislative Practice, Local Government Civil Rights, Local Government Defense, Local Government Law, Local Government Liability, Local Government Relations, Political Subdivision Liability, Public Officials Liability, Public Policy, Qui Tam Litigation, State Government Law, State Legislative Practice, Township Law |
| Government Contracts | Bid Protests, Defense Contract Fraud, Defense Contracts, Federal Contracts, Foreign Military Sales, Government Construction Contracts, Government Contract Arbitration, Government Contract Cost Accounting, Government Contract Fraud, Government Procurement, International Government Contracts, Local Government Contracts, Public Bidding, Public Contract Law, Public Works Contracts |
| Guardianship and Conservatorship | Adult Guardianship, Advance Directives, Conservatorship, Dependent Adult Abuse, Elder Guardianship, Guardian Ad Litem, Guardianship, Guardianship Administration, Incompetency Proceedings, Mental Disability Law |
| Immigration Law | Asylum, Business Immigration, Citizenship, Consular Law, Deportation, Diplomatic Immunity, Employment Authorizations, Employment Immigration, Employment Visas, Family Immigration Law, Immigration Discrimination, Investor Visas, Labor Certifications, Permanent Visas, Political Asylum, Refugee Law, Religious Visas, Removal Proceedings, Visas |
| Internet Law | Content Licensing, Cybersquatting, Digital Signatures, Domain Name Infringement, Domain Names, E-Commerce, E-Commerce Taxation, Electronic Security, Internet Crimes, Internet Insurance, Internet Liability, Internet Licensing, Internet Litigation, Web Site Development |
| Leases and Leasing | Commercial Landlord and Tenant Law, Commercial Leasing, Evictions, Industrial Leasing, International Leasing, Landlord and Tenant Law, Lease Finance, Lease Terminations, Leasing, Leveraged Leasing, Office Leasing, Rent Control, Retail Leasing, Shopping Center Leasing, Unlawful Detainer |
| Libel, Slander and Defamation | Defamation, Libel and Slander, Libel Defense, Media Libel |
| Litigation | Civil Litigation, Commercial Litigation, Complex and Multi-District Litigation, Complex Litigation, Defense Litigation, E-Discovery, Federal Civil Litigation, Federal Litigation, International Litigation, Long-Arm Litigation, Personal Injury Litigation, Trial Practice, U.S. Supreme Court Litigation |
| Mortgage Law | Commercial Mortgages, Foreclosure Defense, Mortgage Banking Law, Mortgage Bankruptcy, Mortgage Finance, Mortgage Foreclosure, Mortgage Insurance, Mortgage Lien Foreclosure, Mortgage Refinancing, Mortgage Securitization, Mortgage Tax, Mortgage Workouts, Secondary Mortgage Market |
| Partnership Law | Family Limited Partnerships, Family Partnerships, Limited Liability Partnerships, Limited Partnerships, Partnership Dissolution, Partnership Formation, Partnership Organization, Partnership Syndication, Partnership Taxation |
| Privacy Law | Information and Privacy, Privacy and Publicity, Privacy Litigation, Right of Privacy, Right of Publicity |
| Probate | Ancillary Probate, International Probate, Probate Administration, Probate Litigation, Probate Taxation |
| Real Estate | Adverse Possession, Boundary Disputes, Common Interest Community Law, Community Association Law, Condominium Association Law, Condominium Conversions, Condominium Development, Condominium Law, Condominium Timeshares, Conservation Easements, Conveyancing, Cooperative Housing Association Law, Cooperative Conversions, Cooperative Housing Law, Easements, Historic Conservation Easements, Homeowners Association Law, International Real Estate, Land Acquisitions, Land Sales, Land Trusts, Manufactured Housing Law, Mixed Use Development, Mobile Home Law, Planned Unit Development Law, Property Management, Quiet Title, Real Estate Acquisitions, Real Estate Arbitration, Real Estate Banking Law, Real Estate Bankruptcy, Real Estate Brokerage Law, Real Estate Brokers and Agents Liability, Real Estate Brokers Licensing, Real Estate Brokers Malpractice, Real Estate Brokers Malpractice Defense, Real Estate Collections, Real Estate Contracts, Real Estate Development, Real Estate Errors and Omissions, Real Estate Exchanges, Real Estate Finance, Real Estate Foreclosure, Real Estate Fraud, Real Estate Investment, Real Estate Investment Taxation, Real Estate Investment Trusts, Real Estate Joint Ventures, Real Estate Leasing, Real Estate Litigation, Real Estate Mediation, Real Estate Partnerships, Real Estate Restructuring, Real Estate Sales, Real Estate Secured Lending, Real Estate Securities, Real Estate Settlements, Real Estate Syndication, Real Estate Tax Appeals, Real Estate Tax Assessment, Real Estate Tax Foreclosure, Real Estate Tax Liens, Real Estate Taxation, Real Estate Title, Real Estate Title Examination, Real Estate Title Insurance, Real Estate Trade Association Law, Real Estate Valuation, Real Estate Workouts, Real Property, Real Property Acquisitions, Real Property Development, Real Property Finance, Residential Real Estate, Residential Real Estate Acquisitions, Residential Real Estate Development, Residential Real Estate Finance, Residential Real Estate Foreclosure, Residential Real Estate Sales, Right of Way Easements, Waterfront Development |
| Regulatory Law | Animal Drug Regulation, Drug and Medical Device Regulation, Economic Regulatory Law, Federal Regulatory Law, Food and Drug Regulation, Food, Drug and Cosmetic Law, International Regulatory Law, Postal Law, Regulated Industries, Regulatory Agency Practice, Regulatory Investigations, Self Regulatory Agency Investigations |
| Religious Institutions | Canon Law, Church and State, Church Law, Ecclesiastical Law, Religious Corporation Tax, Religious Institutions Liability, Religious Nonprofit Corporation Law |
| Resorts and Leisure | Amusement Park Liability, Country Club Law, Golf Course Development, Health Club Law, Hospitality Law, Hotel and Resort Development, Hotel and Resort Law, Hotel Franchise Law, Hotel Liability, Hotel Security, Innkeeper Law, International Hotels and Resorts, Marina Liability, Private Club Law, Recreational Law, Recreational Property Law, Resort Timeshares, Restaurant Law, Restaurant Liability, Ski Area Liability, Travel and Tourism, Water Park Safety |
| Social Security | Social Security Appeals, Social Security Disability, Social Security Disability Insurance, Supplemental Security Income |
| Taxation | Accounting Law, Ad Valorem Tax, Criminal Tax Audits, Criminal Taxation, Employment Tax, Estate and Gift Taxation, Excise Tax, Expatriate Tax, Federal Estate and Gift Taxation, Federal Income Tax, Federal Tax Controversies, Federal Taxation, Fiduciary Income Tax, Fiscal Law, Generation Skipping Tax, Historic Rehabilitation Tax Credits, Income Tax, Individual Taxation, Inheritance Tax, International Income Tax, International Tax Controversies, International Taxation, Interstate Tax, Like Kind Exchanges, Local Taxation, Low Income Housing Tax Credits, Low Income Tax Credits, New Markets Tax Credits, Personal Property Taxation, Property Tax, Property Tax Abatement, Property Tax Appeals, Property Tax Assessments, Sales and Use Tax, State Income Tax, State Tax Controversies, State Taxation, Tax Appeals, Tax Audits, Tax Certiorari, Tax Collection, Tax Controversies, Tax Credits, Tax Deferred Exchanges, Tax Evasion, Tax Fraud, Tax Incentives, Tax Law, Tax Legislation, Tax Litigation, Tax Planning, Tax Shelters, Tax Valuation, Taxation of Foreign Nationals, Transfer Tax, Trusts and Estates Taxation |
| Trademarks | Counterfeiting, International Trademarks, Internet Trademarks, Lanham Act, Service Marks, Trade Dress, Trade Names, Trademark Arbitration, Trademark Infringement, Trademark Licensing, Trademark Litigation, Trademark Prosecution, Trademark Protection, Trademark Registration |
| Trusts and Estates | Contested Trusts and Estates, Decedents Estates, Estate Administration, Estate Bankruptcy, Estate Litigation, Estate Planning, Estate Planning for Parents of Handicapped Childre, Estate Planning for the Disabled, Estate Planning for the Elderly, Estate Planning for Unmarried Couples, Estate Settlements, Family Trusts, Family Wealth Transfer, Fiduciary Law, Fiduciary Liability, Fiduciary Litigation, Financial Planning, International Estate Planning, International Trusts, International Trusts and Estates, Living Trusts, Offshore Trusts, Personal Planning, Pet Trusts, Powers of Attorney, Retirement Planning, Special Needs Trusts, Surrogates Court Practice, Trust Administration, Trust and Estate Collections, Trust Law, Trust Litigation, Trust Planning, Unclaimed Property, Wealth Planning, Wealth Preservation |
| Wills | Contested Wills, Will Drafting, Inheritance, Living Wills, Missing Heir Searches, Successions |
---
Jurisdictions
Federal
California, Florida, Iowa, Texas
---
Employment History
Managing Attorney

| Parwani Law, P.A.

2008 - 2018
---
Education
JD

| University of Minnesota Law School

1995 - 1998
---
Attorney Rating and Feedback
No Feedback
---
Publications and Presentations
No Publications
---
I verify that I am licensed to practice in the State(s) identified and maintain all necessary insurance.
TYPICAL HOURLY RATE: $500
TYPICAL FIXED FEE: $2500
TYPICAL CONTINGENCY FEE: 40%

Tampa, Florida, Hillsborough County
Get a Lawyer Now
Tired of searching?
Anonymously post your legal needs quickly and for free, and lawyers interested in helping you will contact you via email!
GET STARTED