5 Things To Consider When Making A Prenuptial Agreement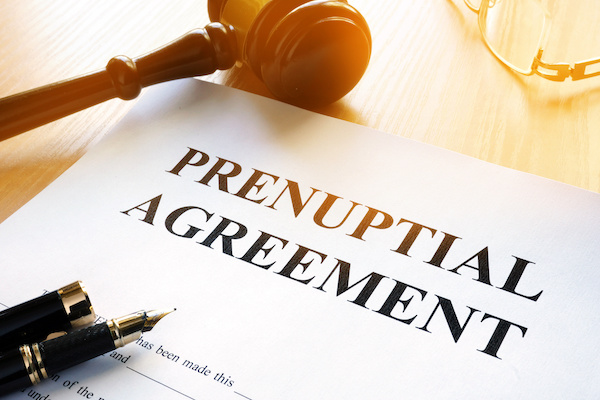 A prenuptial agreement was once considered exclusive for the wealthy and famous. Nowadays, it's the norm for modern couples to measure their success as a unit. Many individuals are beginning to realize its benefits since they can tailor it to their needs and circumstances.

The desires of both parties must reflect in the prenuptial agreement. So, if you're seriously considering it, here are some tips when making a prenup agreement.
1. Division Of Assets
Many assume that a prenuptial agreement is about ensuring the degree of love and trust that the couple feels for each other. But for some, it's mostly about establishing peace of mind when their future becomes bleak.
In most cases, the fear of uncertainty drives a prenuptial agreement. Hence, it can protect their assets' security amidst separation, divorce, or death. A prenuptial agreement can also help you decide how to divide your properties when you're gone.
For instance, if you want your assets to be distributed to your immediate family, the prenup is among the documents to help ensure it. A prenup also solidifies your intentions to leave behind an educational fund for your children.
Meanwhile, the stakes are higher if there's a family business that you need to secure. Drawing a prenup allows you to achieve peace and control over future uncertainties. If you're exploring the idea of a prenup agreement, you can seek help from legal professionals. You can search online or
visit the website
of a reliable firm near you to learn more about prenuptial agreements.
2. Children From Previous Marriages
Nowadays, it's common for single parents to marry when they find a new partner. However, making a prenuptial agreement when you already had children from a previous relationship can be tricky.
One way to help is to include detailed information about your children from your former relationship. Couples must decide what to do if the marriage ends in divorce. You need to discuss if you'll include provisions for child support.
3. Spousal Financial Responsibilities
Creating a prenuptial agreement can offer an excellent opportunity to discuss financial responsibilities, such as who'll cover the debts made. Couples can also compromise over which partner will pay the
mortgage
, taxes, utilities, etc.
In addition, if you have plans, such as returning to school or starting a business, you can discuss how much funds each of you will contribute. The prenup agreement will also help divorce lawyers get a clear picture in case the couple ends the marriage.
For example, suppose you and your future spouse agreed to pay for the house and its upkeep. However, you made all the payments because of your partner's lack of employment. You can claim ownership of the house since you took care of it. Hence, you can include this detail in your prenuptial agreement.
4. The Right To Receive Alimony
In cases where one spouse earns much less than the other, you may include alimony in your prenup agreement. The marital prenup can also include waiving the alimony or reducing the payment. The judge may decide to terminate the provision if found unfair.

Decisions on alimony may also depend on the current situation and expectations of those entering the union. You can consider these factors when deciding:
- Income
- Plan to have kids
- Plans in the event of an accident or disability


There are many considerations involved when deciding to waive or include alimony. Remember that spousal support differs from child support since the latter is mandatory. Meanwhile, you can involve a mediator or an unbiased third party to help create a sound and fair prenup agreement that will hold up in court.
5. Get A Lawyer
Couples can create a prenup, and hiring a
prenup agreement attorney
is an excellent choice. But prenuptial agreements have different rules in each province. Your understanding of prenups may be limited. Hence, you may need more reliable resources to interpret the laws. If so, hiring prenuptial agreement lawyers to guide you makes more sense.

A prenuptial agreement can help both parties better understand what was expected of them by their spouse. It's a valuable document to guide each party regarding their assets. For instance, the properties they accumulated during the marriage can be divided more fairly.

Takeaway
The things to consider when making a prenuptial agreement are the division of assets, the financial responsibilities of each spouse, waiving or receiving alimony, and choosing to hire lawyers for each party. Remember that prenuptial agreements are created with the understanding of what's fair for each party.
Do You Need An Attorney?
If so, post a short summary of your legal needs to our site and let attorneys submit applications to fulfill those needs. No time wasted, no hassle, no confusion, no cost.
Posted

- 02/27/2023
Connect with us:
Learn about us: