Checklist for Starting a Law Practice (Part 1)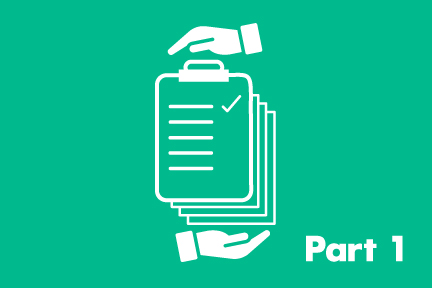 Starting your own law practice can be overwhelming. What follows serves as a two-part "checklist" that can serve as a basic guide for striking out on your own. In Part 1, we'll cover identifying practice areas, selecting an organizational structure, managing finances, and developing clients.
Identify Practice Areas
First, you'll want to identify the areas of law you want to focus on, and in doing so, should consider your strengths and weaknesses, so you pick the best fit. The skillset and work life of a family law attorney are very different from that of a zoning attorney. Unless you are in a rural area, opening a "general practice" law firm that covers a number of areas of law is probably not your best bet, especially if you are opening a solo or small firm practice. When resources are limited, it is difficult to stay up to date on changes in the law across various areas of law, and it may be even more difficult to market your practice. Choosing a niche practice or a very specific target market is often the best way to build a reputation for your new firm.
Select an Organizational Structure
Based on the type of firm you intend to operate, you should select the best organizational structure for your firm, be it an LLC, an LP, or a PC, all of which have their benefits and pitfalls. Consideration should be given to the possibility of adding new partners in the future, protecting the partners' individual assets, etc. If you have partners, you will want to be sure to have a partnership or operating agreement in place. You should also think about how you intend to run and manage the firm, identifying the primary responsibilities of each partner.
Manage Finances
Even if you are an experienced attorney, getting a new practice off the ground takes time, which means you'll need to establish financial reserves. You will most likely need to cover start-up costs, as well the first 6-12 months of operating expenses for the firm. (You may also need to consider how you'll cover your personal expenses if you don't have any other income coming into your household). A good way to establish reserves is to apply for a line of credit. If this is an option for you, should generally apply before you leave your previous employment, as the process can take time. You should also get a firm credit card to cover some firm expenses until you generate cash flow.

You'll also need to decide how you're going to bill your clients - hourly, contingency, and/or with flat or fixed fees, the rates you'll charge, your billing cycle, the timeframe for clients to pay, and whether you intend to accept credit cards, amongst other things.

Once you set your rates, your billing cycle, and your payment terms, you can begin to project cash flow for the first year of your practice. Keep in mind that if you have a practice such as personal injury, where you are getting paid on a contingency basis, it may take longer for you to generate flow. On the other hand, if you are working on an hourly basis, you may begin to generate cash flow as soon as you start billing.

You'll need to open an operating account for your new practice to deposit payments from clients and pay your expenses. Depending on your practice area and whether you will be holding client funds, you may also need an escrow account. If you are not a "true solo," you will also need to set up your payroll, accounting, billing (see below), payment and bookkeeping systems. Many firms these days like the convenience that results from using cloud-based systems that integrate with the firm bank accounts.

Another financial-related consideration is insurance. You'll likely need malpractice insurance, but you should also consider other insurance, such as health, liability, disability, and key person insurance.
Develop a Client Base
If you do not have a portable book of business, you will need to think about how you are going to attract clients to your new practice and what type of clients you intend to pursue. Clearly defining your target market will help you effectively market to your ideal clients. Here again, a niche might be your best bet. For example, if you are planning to open a divorce and family law practice, you may want to focus on only high net worth clients or to concentrate on cases with custody issues. Once you've identified your target clients, develop a comprehensive marketing plan and implement it.

If you have been practicing for a while and have a portable book of business, ensure that your new firm has all the resources needed to effectively serve those clients—or they will look elsewhere for their legal needs. Also, make sure you check the ethical rules in your jurisdiction to find out what you can and cannot do with respect to contacting clients of your previous employer both before and after you leave your former firm.
Regardless of where you are at in your career and client development process, you are going to want to polish your online presence and use the internet effectively to develop more clients—
signup for your free profile on Legal Services Link
, receive real-time client inquiries, and access a database of thousands of active legal projects—at the click of a button.
Additional Attorney Resources
Get More Clients With Legal Services Link
Create your FREE profile and get listed in our attorney directory to start receiving email notifications of relevant legal projects.
Posted

- 11/15/2017
Connect with us:
Learn about us: