Divorce Mediation: A Virtual Alternative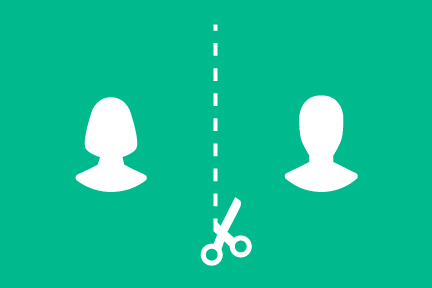 In these weeks of "shelter at home" as a result of the coronavirus, marriages that were experiencing difficulties are being pushed to the breaking point. The stress of staying in close quarters with family, not being able to leave home other than for essentials, trying to work from home while home-schooling children, financial pressures brought on by employment changes, and anxiety about when the lockdowns will end, put powerful stresses on every married couple, especially those already experiencing marital difficulties.


The pandemic has caused a surge in the number of calls to divorce lawyers across the country. But courts in many states are shut down and there is no opportunity to file new cases. The pandemic has also wreaked havoc on some ongoing divorce proceedings and custody arrangements. Some spouses are not comfortable shuttling their children shuttled back and forth, unsure if they are unnecessarily exposing them to the virus. Others have experienced financial changes necessitating changes in maintenance and support arrangements. With limited access to courts, these issues may be difficult to resolve.


One option for these couples is divorce mediation which offers a way to resolve disputes quickly and effectively without the need for court intervention. Many divorce mediators are offering virtual mediations conducted by video conference, and many jurisdictions have relaxed rules to allow virtual document signing and notarization, allowing divorce mediations to continue despite the pandemic.
Advantages of Divorce Mediation
Mediation can offer couples a way to establish agreement or to modify existing agreements due to the change in circumstances brought about by the virus. Virtual mediations can be conducted from your home, without the need to go to a lawyer's office, to meet in a conference room, or to come face to face with a judge.

In a mediation, the couple decides what is most important for them and their family and they do the negotiating. In a mediation, the parties are not relying on a third party (the judge) who does not know the couple or their family to decide for them.

Divorce within the court systems often takes several years to reach a trial, and even then, there is no guarantee of a trial – many cases settle anyway after several years of litigation. The cost of hiring lawyers, going through the discovery process and a trial is expensive, stressful, and time-consuming. This process is likely to take even longer now because there will be a backlog of cases the courts will need to clear once they reopen, and there will likely be a flood of new divorce filings as well, creating an even larger backlog.

In contrast, mediation usually is resolved much more quickly, over several sessions. And consider that in many jurisdictions, if only one spouse was working before filing for divorce, that spouse may be required to pay the fee for their attorney and their spouse's attorney. Paying for a divorce mediator means paying for only one professional, for a much more limited period of time, and in a much less contentious setting.

Mediation is completely private; the only people who will be privy to what is discussed during mediation are the parties and the mediator themselves. There is no need to involve additional people in the form of lawyers, court personnel, or others who can hear your emotional, family, and financial issues.
The Role of the Mediator
Unlike a typical divorce attorney, a divorce mediator does not represent or advocate for one spouse or the other, and unlike a judge, a mediator does not decide the issues for the parties or issue orders. Instead, the mediator facilitates discussion to help the parties reach an agreement to resolve their issues.

The mediator will make suggestions, decide if additional information or documentation is needed, and offer potential areas of compromise. Often mediators can offer suggestions specific to the parties and their unique circumstances that might never be suggested in a typical divorce lawsuit. But it is ultimately up to the parties themselves to reach an agreement. The parties have complete control over whether agree to the terms; they are not imposed by a judge.
The Agreement
Once the parties have reached an agreement on all of the relevant issues including division of assets, support, maintenance, custody, and visitation, it must be memorialized in writing. This is often done by the mediator. When the agreement has been reviewed and signed by the parties, the mediator submits the agreement to the court for review and signature, and it becomes a part of the final decree of divorce. This is the only time a judge needs to be involved in the mediation.
Although mediation, including virtual mediation, isn't for everyone, if the parties are willing to compromise and are open to suggestions, it is a less expensive option that can reach resolution even more quickly despite the lack of activity in the courts. If you are interested in divorce mediation,
use our site to find a qualified divorce mediator
who can help.
Additional Divorce Resources
Do You Need An Attorney?
If so, post a short summary of your legal needs to our site and let attorneys submit applications to fulfill those needs. No time wasted, no hassle, no confusion, no cost.
Posted

- 05/13/2020
Connect with us:
Learn about us: