Guide to Social Media Optimization for Law Practices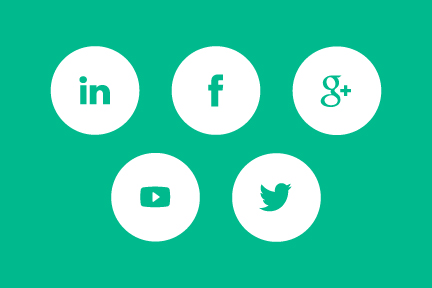 Very rarely does a new client simply walk into your office because they saw your shingle on the street. In the world we live in, the new "walk-in" client is the one that finds you on the internet. But in a world that is over-saturated with attorneys, how do you make yourself stand out? Social media is a proven way to gain search authority, build website traffic, and ultimately, make your phone ring. Ideally social media integrates with a mobile-friendly website, which is the subject of another blog. Following is a guide to setting up and optimizing key social media networks.

Google My Business

A running joke in the marketing community is: "the best place to hide anything is in page two of the Google search results." Before getting into the complexities of link building, long-tail keywords, and schema markups, the first step is to set up your local business using Google My Business. Google My Business came to be as a consolidation of Google Places for Business and Google+ for Pages, allowing you to manage the location and the social aspects of Google in one place. When creating a business page, the top priority is to have your name, address, and telephone number clearly visible.

Adding/Claiming a Business

1. Go to https://www.google.com/business/

2. Click 'Start Now'

3. Search for your business using name or address (Google sources business information from other places, so information may already be available). If it exists, click to claim the business, making edits and verifying the page. If it does not exist, click "I've Correctly Entered the Name and Address, Let me enter the full business details."

4. After you complete your business information, click submit.

Verifying a Business

Verify by Postcard: After completing your location submission, go to Google My Business and click "Verify Now." Fill out information requested, click 'send postcard,' and within 1-2 weeks, you will receive a postcard with verification code; when you receive the postcard, you can enter the verification code on the dashboard.

Other (less common): For some businesses, you will be provided the option to verify by phone, or by syncing with Google Webmaster Tools; for more information, view Google's Support Article on verifying your business .

Once verified as a local business, your name will appear on Google Maps, as well as in what Google calls the "Knowledge Panel," which is the panel to the right featuring your hours, website, and more. On your business page, it is also recommended that you add more information to enhance your search appearance, and complete all information fields.

Create a YouTube Channel

Creating a YouTube Channel is easy, and since YouTube is owned by Google, it will dramatically increase your search authority. Using the same email address you used to add your business to Google, go to YouTube, and on the top right corner, you will see your profile image in a circle. Click the image and in the dropdown, you will see the page you created with the term 'create channel.' Doing this will allow you to link the channel to the YouTube Page, allowing you to receive a vanity URL (subdomain with your firm name), more quickly.

Add a Channel Description: Similarly to your company page, add a description with keywords and a brief history
Add Links: Link to your blog, social channels, and any other links
Add Channel Art: 2560x1440px. In addition to your profile image, which should be generated from your Google+ Page, add channel art

Your First Video

Hire a professional to create a brief (30-60 seconds) video overview about your firm. It can be something simple, like a short animated video. Other video ideas include webcasts you've hosted, podcasts, commercials, client testimonials, and more.

Leverage LinkedIn

Businesses use LinkedIn, so if your practice serves businesses, you need to be on LinkedIn!

LinkedIn Personal Profile

Before getting started on a company page, make sure that your personal profile is optimized. In profile edit mode, add the following:

Professional Headshot Image: 200x200px; people are more likely to click on your profile in search if you have an image

Background Photo: 1400x425px; optional, but preferred, as it will be one of the first things people see when they visit your profile

Custom URL: rather displaying your URL as /pub/john-doe/0482786, you can choose your own vanity URL, allowing you to display your profile as www.linkedin.com/in/johndoe

Headline: 120 characters that displays below your name; ensure it conveys both job title, who you help, and how you stand out

Summary: think of your summary as a cover letter, but rather than applying for a job, you're sharing with potential clients how you can help them

Job History: share a bit on each company, as well as what you did for each company--highlight key terms for which you'd like to be found

Certifications, Memberships, Education: list your BAR association memberships, organizations, and education

Now that your profile has the minimum, enhance your profile with SlideShare, which integrates with your personal LinkedIn profile, and allows you to upload slideshows, info-graphics, videos, and more.

SlideShare Set-Up
Create a SlideShare Account, deciding whether you want to create the account as a company or personal page, and upload important materials. From here, head back to your LinkedIn profile, and embed uploaded slideshows/info-graphics to your account using the button at the top right of each section that says "Click to add a video, image, document, presentation…" Add a description, and post it under the pertinent section (summary, job, etc.).
LinkedIn Groups
Get the word out! Join relevant groups, both for the purpose of staying up to date with the latest trends, as well as sharing your insights with the group through links, comments, and more.
Search for groups using keywords pertinent to your specialty, as well as location-based groups. For instance, if you are a Chicago-based employment and labor lawyer, look for human resource groups in the Chicago region.
Other potential groups to join: Your School's Alumni Association, the ABA Section of your Practice Area, Your Local Bar Association, Related Bar Associations, and (coming soon) the Legal Services Link LinkedIn Group.
LinkedIn Company Page
Create a LinkedIn company page to highlight your company's presence. Using an email address with the domain of your law firm, 'hover over interests,' click 'companies,' and on the right side of the company's page, you will see a box for "Create a Company Page." Create the page, and complete all information fields. Use this company page to post updates, new blogs, and industry news.
Creating a Facebook Business Page
Facebook is a leading source for local search, as well as the leading social network in the world. Creating a business page is simple, even if you are not technologically savvy.
If you're logged into Facebook, in the top right corner, click the down arrow, under which you will see the term 'create page.' Follow the steps as a local business or place. Add location, logo, cover image, description, categories, subcategories, and other information pertinent to your business.
Once you have set up a page, the next step is building your audience. This is as simple as inviting your friends and colleagues to like your page. When a Facebook user "likes" a page it shows up in their news feed, which then generates interest among their Facebook friend audience.
Next, create posts within your page that engage your audience. Link to interesting articles within your practice area and create a dialogue. This keeps people engaged with your page and also brings more traffic to it. It also lets all of your contacts know what it is you do and what you can help them with.
Ongoing Social Media Delivers Measurable Results
Social media is now a key piece of the marketing puzzle, which ideally integrates with a mobile-friendly and search-optimized website. Proper set-up is required, along with ongoing posts and engagement. Measure social media traffic and click-through via Google Analytics, which offers robust reporting options.
Legal Services Link is another important piece of a establishing an effective online presence. Your Legal Services Link profile can link to your website, delivering search authority and referral traffic. You can also post an article to your Legal Services Link profile to demonstrate your expertise.
Not a Legal Service Link member? Simply sign up at www.legalserviceslink.com and let clients and legal jobs come to you. Easily connect and communicate directly with clients at a click of a button.
Get More Clients With Legal Services Link
Create your FREE profile and get listed in our attorney directory to start receiving email notifications of relevant legal projects.
Posted

- 11/25/2015
Connect with us:
Learn about us: