Immunizations and the Law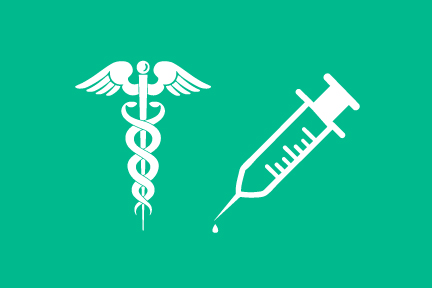 Immunizations are a controversial topic, and there are people who believe that vaccinations do more harm than good. However, it is widely accepted that many childhood and other serious diseases are now preventable by vaccines. School vaccination laws were created to help keep children safe at school and to prevent the spread of diseases. All parents are required to ensure that their school-aged children receive the necessary vaccinations before starting school, unless they fall under certain exceptions. In certain circumstances, adults are also required to receive immunizations. Below is a summary and discussion of those laws.

Immunization Laws Affecting Children
Specific vaccination requirements vary from state to state, but most states require children age four or older, and who are entering kindergarten, pre-kindergarten, or daycare, to have proof that they have received the following: Poliovirus vaccine (IPV); two doses of Measles, Mumps, Rubella vaccine (MMR); three doses of Hepatitis vaccine (HBV); two doses of Varicella (chicken pox) vaccine; and, a booster dose of Diphtheria, Tetanus (lockjaw), Acellular, and Pertussis vaccine (DtaP). Most states also require that the parents or guardian provide written proof, by a health care provider, that the required vaccinations were given. Unless parents provide a valid objection or medical reason for not having their children vaccinated, children who have not provided proof that they've received the required immunizations will not be allowed to attend school, public or private.

Immunization Laws Affecting Adults
There are no federal or state laws that require adult citizens to be vaccinated; however, employers may require certain vaccinations for certain professions. Typically, the United States military and most health care providers require employees to have certain vaccinations. Healthcare facilities across the country are increasingly requiring healthcare workers to be vaccinated for certain diseases in an effort to reduce outbreaks of diseases preventable by vaccine. Healthcare providers often promote vaccination for employees they insure, including seasonal flu or H1N1 shots.

The federal government does have vaccination requirements for non-U.S. citizens seeking residency in the U.S.; however, foreign citizens who are seeking permanent residency in the U.S., as well as foreign-born children who are entering the country to be adopted, are required to be vaccinated against all vaccine-preventable diseases before entering the country.

Objections and Exceptions
All states allow medical exemptions to vaccinations for school-age children. A doctor may determine that a child should be exempt from receiving vaccinations for medical reasons if he is allergic to some vaccine components or has an immune deficiency. A parent claiming medical exemption from school vaccination requirements must obtain and submit a written statement documenting the medical exemption.

In most states, parents or guardians may also have a child exempted from required immunizations if immunization is contrary to his/her religious beliefs. In fewer states, parents may be granted a philosophical exemption, and opt out of vaccinations based on the belief that immunizations are not safe, needed, or effective on their children.

Immunization is a serious and hotly contested issue. If you are considering exempting your child from immunization requirements, it is important that you know your rights and responsibilities. Find an experienced education lawyer by quickly posting a short summary of your legal needs on Legal Services Link, and let the perfect lawyer come to you!




Do You Need An Attorney?
If so, post a short summary of your legal needs to our site and let attorneys submit applications to fulfill those needs. No time wasted, no hassle, no confusion, no cost.
Posted

- 08/31/2017
Connect with us:
Learn about us: