Living Wills & Advance Health Care Directives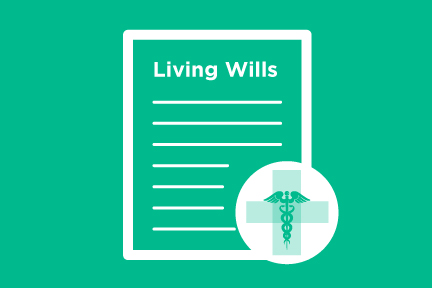 With advances in modern medicine and science, people today are living longer than ever. Despite these advances, the likelihood of experiencing health-related challenges increase with age, and many people are not able to express their wishes for their own care as they approach the end of their lives. In those cases, someone must make medical-related decisions for the incapacitated person.

Living wills and advance health care directives allow you to express your medical-related wishes in the event, and in advance, of terminal illness or injury, and to appoint someone to make decisions for you in the event you cannot make them yourself. Without a living will or advance directive, your family or loved ones may have to overcome significant legal obstacles and expend unnecessary resources to handle your care in the way they think appropriate.

What are living wills?
A living will is not really a will at all in the traditional sense. A living will, also known as an advance directive, is a legal document that expresses an individual's desires and preferences about medical treatment in the event that they are unable to communicate those instructions themselves. Common examples of advanced directives include the decision of whether to prolong life using artificial life support, use of feeding tubes, resuscitation, intubation, pain management, and organ donation. If your living will is deemed to be valid, it will bind your health care providers to its instructions.

While each state has different requirements, living wills must be in writing. In some states, your living will may need to be signed by a witness or notarized. It is important that this document is created and completed according to your state's laws. Having an attorney assist you in drafting these documents will reduce the likelihood of your living will being challenged in court, and ensure that your wishes are carried out according to your instructions.

After your living will has been prepared, it's important to keep a few things in mind. First, you can change your instructions at any time, for any reason. If you have new living will, it is important to destroy the old living will. It is also important that your living will be kept in a safe, but accessible place. You should give a copy to your physician and to your durable power of attorney or health care proxy. You should also communicate your directives to your family members and other important people in your life, so that they fully understand your desires. This will avoid unnecessary strife and confusion if the time comes to implement your instructions.

Any authority granted by a living will ends when the person who made the document dies, with the single exception that some living wills or powers of attorney give healthcare agents the power to make decisions about organ donation or autopsy.
Durable Power of Attorney/Health Care Proxy
A "health care proxy," sometimes called a "durable medical power of attorney," is a type of advance directive where you a name person to make decisions for you when you are unable to do so. The person you name may be a spouse, a family member, a friend, or anyone else you select. The person you choose to be your health care proxy should be someone you trust, and who is comfortable discussing health care issues. In the event that you are unable to communicate your instructions regarding medical treatment, your healthcare proxy will need to be an advocate for you, and may even need to argue your case with doctors or family members—in court or otherwise. Your health care proxy should be very familiar with the instructions you have indicated in your living will, and also be supportive of, and willing to uphold, your choices. In the event that you do not have a living will but have named a health care proxy, he or she may use his or her judgment in making decisions concerning your care.

As with living wills, the health care proxy needs to be in writing and should be prepared by an attorney. Normally, only one person is appointed as your health care proxy. However, you may choose one or more alternates in case the person you chose is unable to satisfy his or her role. As is the case of a living will, medical professionals will make the initial determination as to whether you have the capacity to make your own medical treatment decisions.

If you are estate planning and/or facing the prospect of a potentially debilitating or terminal illness, it's important to prepare a living will. It can provide invaluable guidance to your family members, loved ones, and healthcare professionals if you can't express your wishes yourself. Decisions relating to health care are serious and should be carefully considered. Having an attorney assist in creating your living will and health care proxy will help you avoid many legal issues and pitfalls that typically arise when such documents become necessary. Find an experienced attorney by quickly posting a short summary of your legal needs on Legal Services Link, and let the perfect attorney come to you!




Do You Need An Attorney?
If so, post a short summary of your legal needs to our site and let attorneys submit applications to fulfill those needs. No time wasted, no hassle, no confusion, no cost.
Posted

- 12/01/2017
Connect with us:
Learn about us: